TOP-RATED GRE TEST PREP
with TTP's
GRE
prep course
No automatic billing; Upgrade by choice.
A COMPANY FEATURED IN
WITH 4.9 on Trustpilot
How the TTP online course
supercharges

your GRE prep
A comprehensive course
Our GRE prep course includes every concept and strategy you need to conquer the GRE Quant and Verbal sections, plus shortcuts and tips from the experts.
Strategic learning
Strategically organized chapters build a rock-solid foundation and dive deep into high-value Quant and Verbal topics, with clear, easy-to-digest lessons designed to maximize learning.
Ample practice
4,000+ GRE practice questions provide targeted practice for students of every level. 1,000+ HD video explanations by expert instructors show step by step how to most efficiently solve problems.
Intelligent analytics
Detailed analytics track your performance at a granular level, so you can strategically focus your GRE studying to target weak areas and reach your goal score faster.
Flexible preparation
Study anywhere, anytime, on any device with our easy-to-use online platform, and drill vocab, formulas, and more with customizable digital flashcards.
Personalized for you
The TTP online GRE prep course adjusts to your individual needs and score goal, optimizing your study.
Score increase
guaranteed
If your official GRE test score does not increase after you complete the Target Test Prep GRE course, continue using the course for free.
Avg GRE score (Worldwide)
Lowest score
Highest score
*This data comes from TTP users who posted verified reviews on GRE Prep Club.
TTP™ Students
324
Average reported GRE® Score
Q163
Average reported Quant Score
V161
Average reported Verbal Score
TTP™ by the numbers
0
Practice questions answered
0
Minutes of video watched
Master every
GRE Quant

topic

There will be no surprises on test day.
Every GRE Quant concept explained clearly and simply.

Powerful strategies for answering each question type.

Thousands of realistic practice questions.

Pro tips, tricks, knowledge, and wisdom.
Master every
GRE Verbal

topic

Develop the skills you need for test day.
Smart strategies for tackling Verbal questions with confidence.

Realistic practice questions covering all concepts and difficulty levels.

Insider knowledge for every Verbal question type and trap.

The ultimate vocab resource, with nearly 1,200 of the most common GRE words.
Master
The Analytical Writing Assessment
Earn a perfect essay score.
Get a foolproof formula for tackling any GRE essay topic

Learn the skills that GRE essay-graders reward

Become a more efficient essay-writer

Get key strategies and expert tips
4000+

Quant and Verbal practice questions
Proper practice makes perfect.
Master the GRE Quant and Verbal game.

Gain experience in all GRE Quant and Verbal question types.

Solidify each lesson with strategic, topic-focused practice.

Build the speed and accuracy you need to achieve your goal.
Instructor-led

HD video solutions
Train with the experts.
Enhance your GRE study with tons of video solutions for every Quant and Verbal topic.

Learn to solve questions like a pro.

See strategies implemented step by step.

See lesson concepts actively applied.
Quant and Verbal
flashcards
Master the GRE® game
Quiz yourself on key concepts in Quant and Verbal.

Study cards by chapter or create custom decks and cards.

Drill vocab with 1,200 flashcards featuring definitions, synonyms, and example sentences.

Learn on the go and get in quick-hit study sessions.
Intelligent Analytics
Comprehensive performance analytics keep you on track to your goal.
Get a detailed view of your performance on your personal dashboard.

See your speed, accuracy, and topic mastery, all in one place.

Identify weaknesses and turn them into strengths.

Gauge your level of preparedness as you progress through the course.
See what's holding back your score.
View your most common mistakes overall and by topic.

See exactly how often you make each type of error.

Easily identify score-eroding habits and patterns.

Eliminate careless errors and increase your accuracy.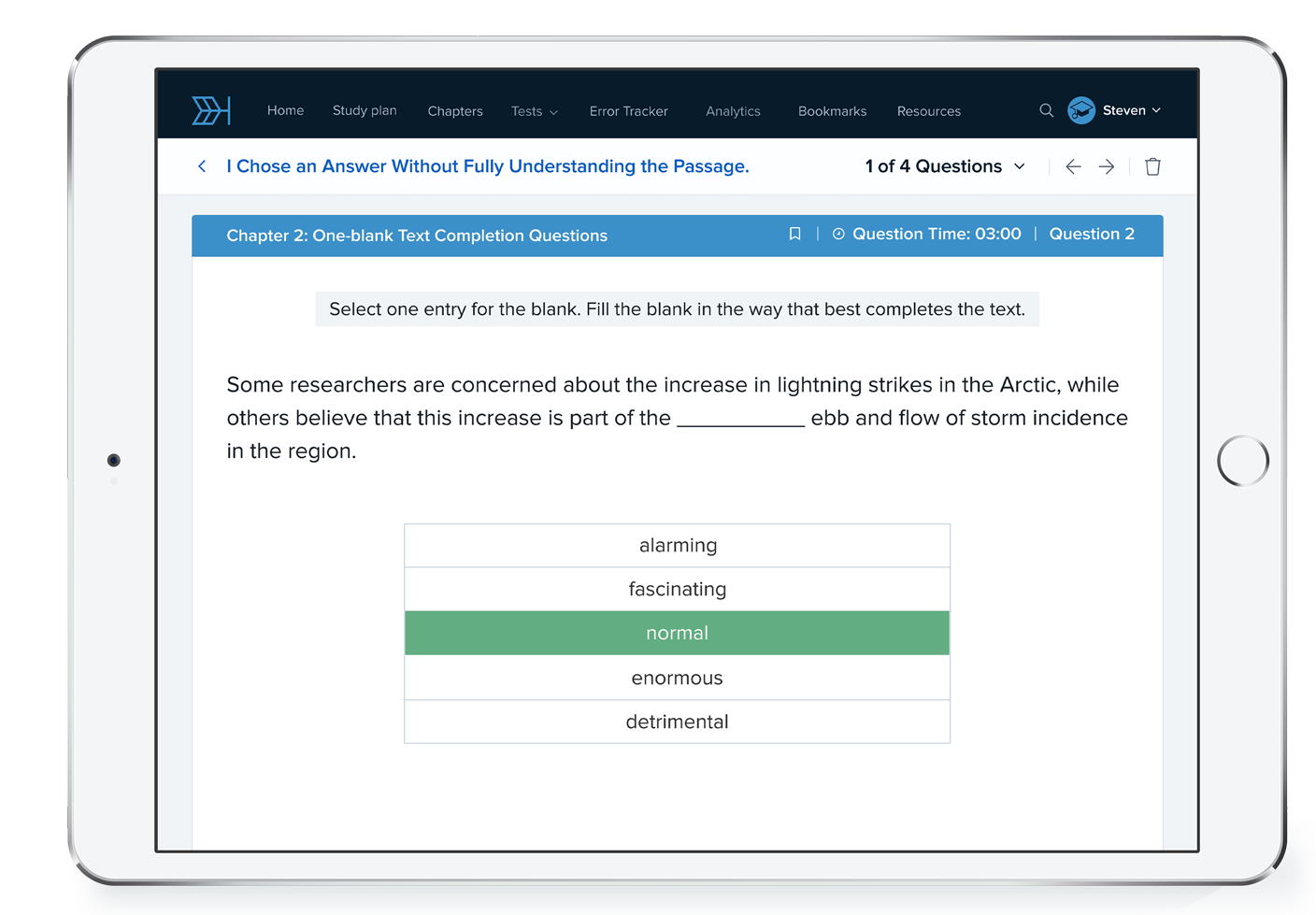 Create a vast array of Quant and Verbal practice sets.
Review and reinforce what you've learned.

Strategically practice weak areas until they become strengths.

Select questions by type and difficulty level.

Practice pacing with customizable time per question.
Prepare for the GRE General Test using a study plan tailored to your unique goals.
Have a step-by-step road map at your fingertips.

Make consistent gains day after day, week after week.

Study with peak efficiency.

Never wonder what to study next.
Expert live support
Message a team of experts with questions, comments, or concerns. We've got your back each step of the journey.We help test-takers achieve their GRE goals
We help students achieve their GRE® goals
Adrianna
Improved From Q155 to Q163
I studied with two other GRE courses and tutors without getting the improvement I experienced using this one. Target Test Prep was hands down better than any of the other classes or online courses I used.
Ana
Scored 167 on GRE® Quant
What I really liked about the platform was the organization and support. Juggling a full-time job and studying for the GRE isn't an easy task, but TTP made the process as smooth as possible.
Emma
Earned a Q168 / V166
Thanks to Target Test Prep, I got admitted to both of the schools I applied to, Columbia and NYU. I haven't decided yet where to go, but I'm happy to have options!
A
top-rated

study platform
Thanks to Target I was able to improve my quant score by 9 points, which greatly improved my chances to be accepted on my chosen phd program. I think Target is the best of quant course on the market, not only because their price is reasonable but their materials are perfect to study for the GRE.
Target Test Prep was extremely useful to me! I spent some good time looking for study material online, especially for the quant section as I was apply for MBA programs, and TTP was hands down the best product I found.
I was mainly seeking a source of good practice questions. Target Test Prep gave me exactly what I was looking for, and I think it has a lot to offer anyone who wants to improve their quant performance.